PE plastic bags in Vietnam have many types such as t shirt, flat, bag on roll, block header or sheet. Each type has its own use purpose. In addition, whether plastic bags are biodegradable is also a very important factor today, especially in developed countries such as US or Europe.
PE plastic T shirt bags
T shirt bag also known as vest carrier bag. This is a PE bag with 2 handles on both sides. One can also be designed additional hanging holes on each side. This type of bag is arranged in blocks. Each block can be 25 pieces, 50 or up to 100 pieces. Each bag can also have additional features such as emboss or side gusset.
Read more: Plastic T shirt Bag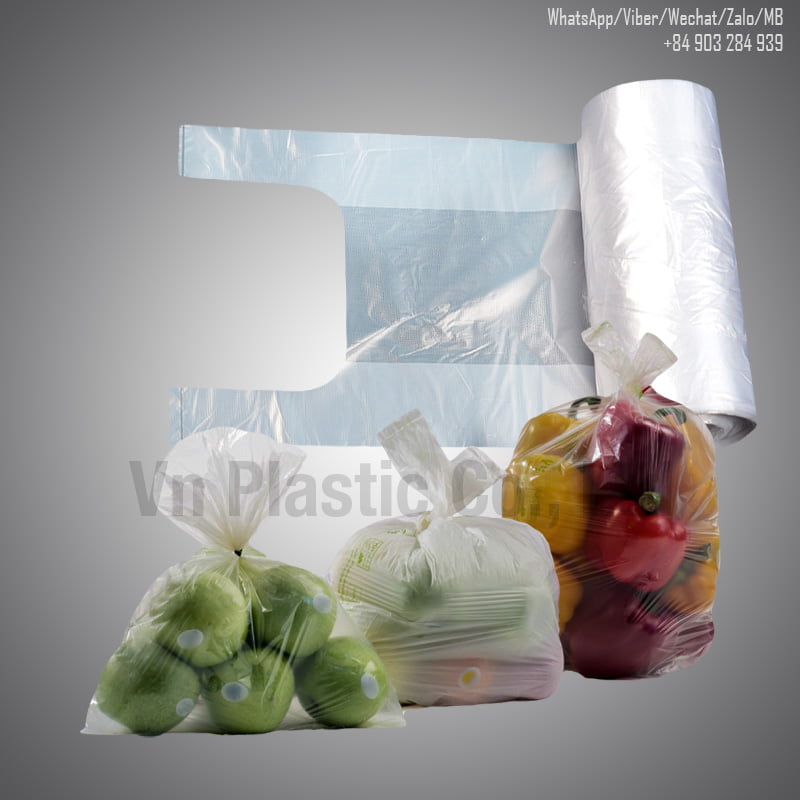 PE plastic Flat bags
Flat bag has 2 main types: the normal type F and the side gusset, denoted FG. Each bag has a different use. Therefore, users need to consider the purpose of use before ordering this product. Flat Bag is often used to store food or in supermarkets.
Read more: Plastic Flat bag
PE plastic Bags on roll
Bag on roll is a very popular type of bag nowaday. The bags are packed in rolls of different sizes and separated by a dashed cut. Bag on roll types include side gusset, t shirt, star sealing or C, V, G fold.
Because this is a multi-purpose bag, it can be used for many purposes such as housework, grocery stores, retail stores, offices, supermarkets, dog waste, trash bag (a.s.k.a. garbage bag on roll).
Read more: Plastic Bag on Roll
PE plastic Block header bags
Block header bag is almost the same as Flat bag. The only difference is the head of the bag. It is arranged with hanging holes, hot pins to fix the bags into 1 block. There is a dashed cut at the head so that the user can easily pull the bag out when needed.
The bag can be added with a gusset to increase the storage volume. People often use Block header bags in food stores, shops and supermarkets…
Read more: Plastic block header bag
PE Plastic Sheet
PE plastic Sheet is packed into blocks, rolls or block headers. A sheet is a single piece of plastic that cannot be used for storage, but only for wrapping or lining the product. This type of bag is mainly used in food stores or vendors.
Read more: Plastic Sheet
Final thoughts: PE plastic bags in Vietnam
Above are 5 Most popular PE plastic bags types in Vietnam. There are many other types of bags with different packaging styles. Vn Plastic will share with you in the next article. Thanks for reading! If you need any further help, leave your comment down here or chat with us via Facebook Messenger.