There are many T shirt plastic bags suppliers in Vietnam. But that's reason why foreign importers are confused. And in this article, Vn Plastic would like to share with you 6 criterias to make differences between each of them.
Own dedicated T shirt bag production machine
T shirt plastic bags suppliers in Vietnam are "as thick as ants". But that doesn't mean they all own specialized production machines. There are many suppliers that take jobs and cooperate with another manufacturer to produce. This will cause the cost of products to increase. The operation, production and transportation processes will be slower and more inconvenient.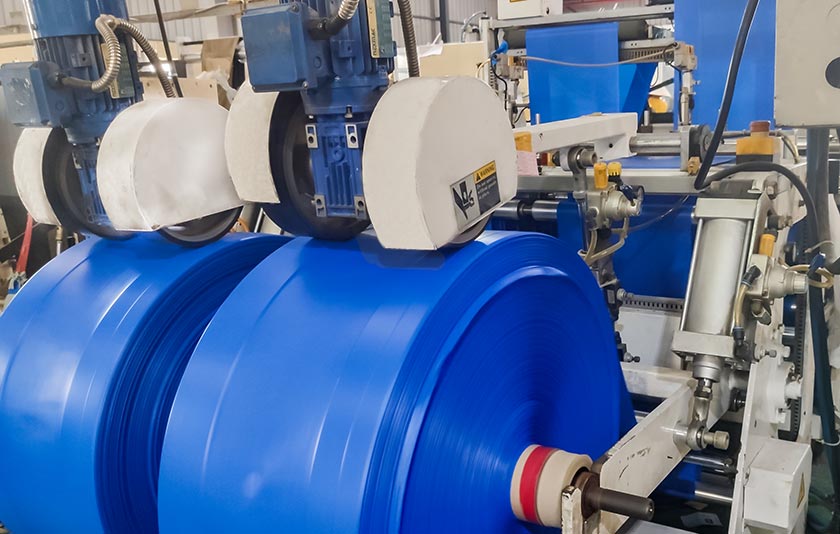 Vn Plastic owns a series of specialized T shirt bags production machines with high capacity. Some machines can produce 3 lines at the same time. This will greatly shorten the lead time. Moreover, with over 10 years of experience in the industry of producing HDPE and LDPE bags, Vn Plastic is confident to meet the most customers demands.
Supplier location nearby export port
Freight charges will affect the product cost. The convenient transportation of goods will also make oversea importers feel much more satisfied.
Vn Plastic is a leading plastic bag manufacturing company in Haiphong city, Vietnam (map). It's only 6 km (18 minutes drive) from the factory to Haiphong port.
You may like: 4 Key points to choose LDPE bag manufacturer in Vietnam
For airline cargo transfer, we only take around 2 hours (127 km) to go to Noi Bai International airport. Therefore, our location is very ideal.
BVQA certificate
BVQA International Certification Body certifies that the Management System of the organization has been audited and found to be in accordance with the requirements of the Management System standard.
Vn Plastic meets the ISO 9001:2015 standard with the Manufacturing of PE bags and films scope of supply.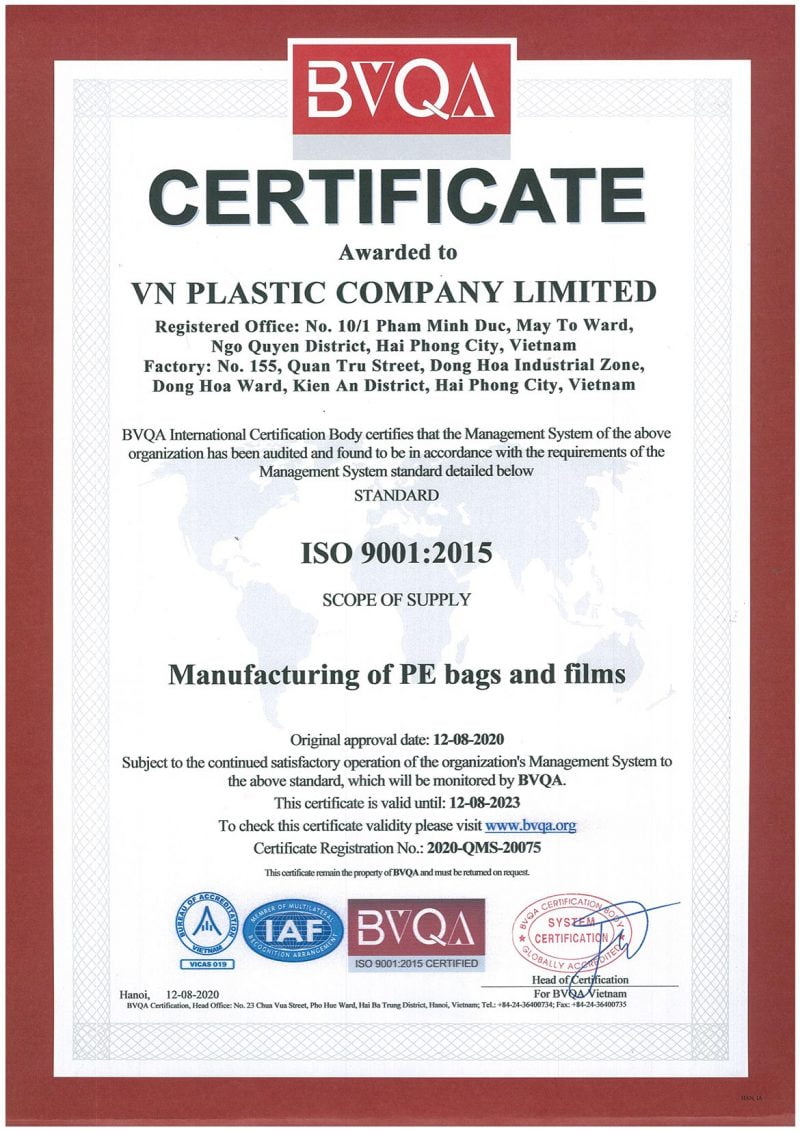 As low price as possible
Finding a T shirt plastic bags supplier in Vietnam that provides low prices is ideal for foreigner importers. In order to get low prices, suppliers must have cheap raw materials sources. And the longer the suppliers operate, the better relationships they have with raw material suppliers, so they will have good prices. The size of the supplier's company will also affect to the product price factor.
Amazing lead time
The speed of plastic bags production is a criterion that many importers do care of. When looking for T shirt plastic bags suppliers in Vietnam, lead time should be taken into account. Because based on this, we can deduce the size and reputation of that factory.
Moreover, amazing lead time will make customers feel more satisfied and trusting. Vn Plastic only needs 2 – 4 weeks to process order depending on quantity.
24/7 support
24/7 support is the best thing to any operation. Making requests, revising, and censoring demos will take a lot of time may take lot of time if no prompt advice and feedback received. Luckily, Vn Plastic always has a 24/7 support team and is ready to answer any questions from customers. Customers can click on the online chat icon in the bottom-right corner to chat at any time. If urgent, please call the hotline +84-903-284-939.